New Releases on Netflix Canada (13th January 2017)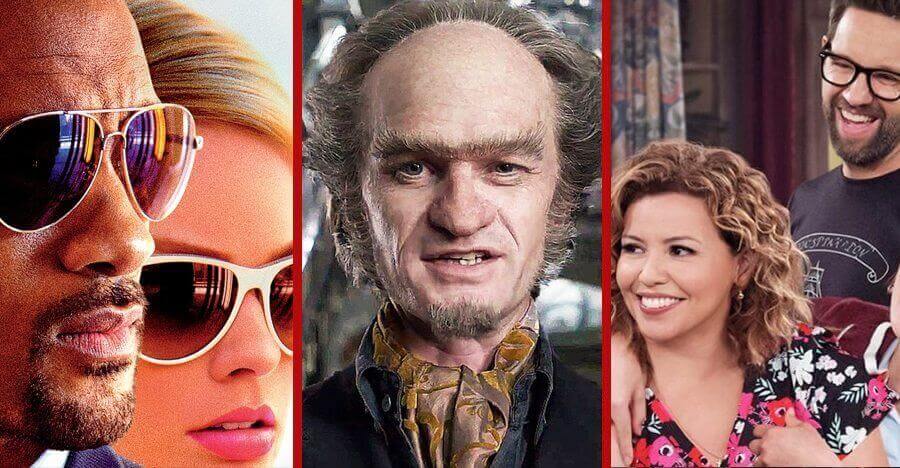 It's now halfway through January, and Netflix is still releasing many new titles for you to sink your time into. 72 titles have been added since last week, consisting of 33 Movies, 15 new Documentaries, and 24 TV Series. As usual, we have chosen three titles from the mass that we feel need a special mention.
Our first choice is the 2015 film 'Focus' Starring Will Smith and Margot Robbie. Will Smith plays an experienced con-man named 'Nicky Spurgeon'. He recruits a talented young woman so he can teach her his ways and how to lie and cheat. After complications arise they split, but three years later their paths cross again, but who is the better con-artist now?
Next on our list is the relatively new Netflix Sitcom series about a Cuban Family living in America. The single mother must raise her daughter and son, and confide in her landlord Schneider and her mother to assist her. The comedy has been very popular and is a remake of the old 1975 series of the same name. If you love these sort of shows you might want to watch the first season before the second arrives on Netflix.
Our Final choice is the highly awaited new Netflix original 'A Series of Unforunate Events', a dark story based on the childrens books writen by Lemony Snicket and based on three young chilren who become orphans after their children supposedly die when the family mantion goes up in flames. Now the children have nothing, apart from their impending family inheritence. That their distand evil relitive would do anything for, even as far as murder, arson and other devilish schemes.
Read on for the full list of all 72 new releases:
33 New Movies Streaming to Netflix Canada
Jed Kirkman: Just keep livin'? (2017)
Mr. Pig (2016)
Marvel's Hulk: Where Monsters Dwell (2016)
LEGO: Attack of The Legion of Doom! (2015)
Class of '61 (1993)
Transformers (2007)
Some Assembly Required – Season 1 (2014)
Rampage: President Down (2016)
Radiopetti (2015)
Jupiter Ascending (2015)
Autohead (2016)
Genius (2016)
Dad (1989)
Coin Heist (2017)
The Childhood of a Leader (2015)
Bad Girls (1994)
Under the Shadow (2016)
Big Hero 6 (2014)
American Pie Presents: The Naked Mile (2006)
The Watcher (2016)
Ruston (2016)
Marauders (2016)
Jim Gaffigan: Cinco (2017)
Happily marries (2015)
Focus (2015)
Wiener-Dog (2016)
The Innocents (2016)
The Infiltrator (2016)
Alice Through the Looking Glass (2016)
The Wedding Ringer (2015)
Very Big Shot (2015)
Clinical (2017)
Blue Streak (1999)
15 New Documentaries Streaming to Netflix Canada
Revenge Porn (2015)
Murder Files – Season 1 (2013)
The Hollywood Shorties (2016)
Hacking the Planet – Season 1 (2013)
The Rat Race (2010)
The Perfect Physique (2015)
High: How Drugs Work – Season 1 (2011)
The Green Way Up – Season 1 (2016)
Shadow Trade (2014)
Growing Up Coy (2016)
Corrupt Crimes – Season 1 (2015)
Miss Sharon Jones (2015)
Best and Most Beautiful Things (2016)
Eat This Question: Frank Zappa in His Own Words (2016)
Unreported World – Season 29 (2015)
24 New TV Series Streaming to Netflix Canada
Shameless – Series 4/6 (2004)
Shadownhunters – Season 2 (2016)
Robot War – Season 5/6 (1998)
Motorway Cops – Season 1 (2008)
Rosewood – Season 1 (2015)
The Principal – Season 1 (2015
Off Camera – Series 3 (2014)
Vinnie Jones' Toughest Cops – Season 1 (2008)
One Day at a Time – Season 1 (2017)
Madame Antoine – Season 1 (2016)
Love in Her Bag – Season 1 (2013)
LEGO Ninjago: Masters of Spinjitzu – Season 4 (2011)
Hellevator – Season 2 (2015)
Edgar Rice Burroughs' Tarzan and Jane – Season 1 (2017)
D-day – Season 1 (2015)
Crime Scene Investigation Center – Season 1 (2015)
LoliRock – Season 2 (2014)
We're Lalaloopsy – Season 1 (2017)
Star – Season 1 (2016)
Plane Resurrection – Season 1 (2015)
A Series of Unfortunate Events – Season 1 (2017)
Pororo – The Little Penguin – Season 3/4 (2003)
The Investigator: A British Crime Story – Season 1 (2016)
Historia de un clan – Season 1 (2015)
---