New Releases on Netflix Canada (21st April 2017)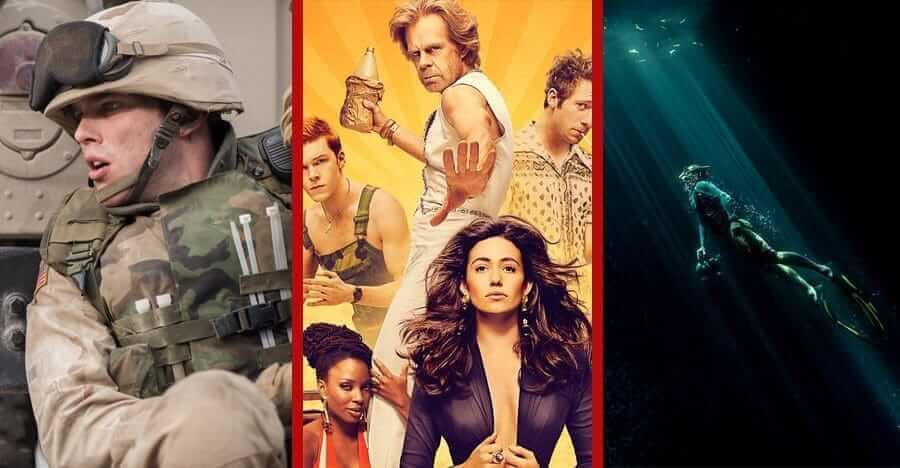 Another week of April has passed and more new and fresh titles have been added to Canadian Netflix. A total of 65 titles has been added, consisting of 41 new Movies, 4 Documentaries, and an additional 20 new TV series. We have chosen three titles from the 65 to specifically mention, to give you an idea on where to start.
Our first mention for this week is the sixth season of the US show 'Shameless' that follows the Gallagher Family as they try and cope with everyday life in this large, dysfunctional family with an Alcoholic Family. Often when UK shows are remade in the US, it doesn't go particularly well, but according to fans, Shameless is an exception. The scripts are both very similar but the characters have transferred across well. Fans of the show will be glad to hear that season 6 is now available to stream at a moments notice.
Next, we have chosen to talk about the new Netflix Origin movie 'Sand Castle' starring Nicholas Hoult and Henry Cavill during the occupation of Iraq in 2003. Nicholas plays Matt Ocre an American soldier who is part of a squad tasked with protecting a small village, while constantly at risk of being engaged by enemy Taliban fighters. The film is a gripping war drama that focusses on the horror that troops were subject to. The film has been met with good reviews and is definitely worth a watch if you are into this sort of Drama.
Our final choice for this week is a Netflix Original documentary 'Tales By Light', who's second season has just been released to Netflix. The show prides itself in showing the natural world like it has never been seen before, as it follows many amazing photographers around the world capturing wonders and pushing their limits. The show has been praised for being ahead of its time as it has been recorded in 4k and 6k resolution, that really helps showcase the amazing cinematography. if you're a sucker for beautiful nature Docmentaies you will adore this show.
Read on for the full list of all 65 new releases:
41 New Movies Streaming to Netflix Canada
Wild Card (2015)
Veve (2014)
The Wedding Party (2016)
The Prince (2014)
Sundown (2016)
Strings (2014)
Slam (2017)
Resistance (2011)
King Cobra (2016)
Howards End (1992)
Good Kids (2016)
Gone Too Far (2013)
Final Girl (2015)
Dry (2015)
Cold Harbour (2013)
Brick Mansions (2014)
Bibi & Tina: Girls Versus Boys (2016)
Bibi & Tina II (2014)
Bibi & Tina (2014)
And So It Goes (2014)
A Patch of Fog (2015)
A Haunted House 2 (2014)
Entourage (2015)
The Light Between Oceans (2016)
A Street Cat Named Bob (2016)
The Matchbreaker (2016)
Lucas Brothers: On Drugs (2017)
Bigger Fatter Liar (2017)
The Swan Princess (1994)
Bottom of the World (2017)
30 Minutes or Less (2011)
Tropic Thunder (2008)
The Unborn (2009)
Ocean's Eleven (2001)
Battleship (2012)
Tumbledown (2015)
Tramps (2017)
Sand Castle (2017)
Little Boxes (2016)
Bhoothnath (2008)
Baghban (2003)
4 New Documentary Streaming to Netflix Canada
Just Like Us (2010)
Oklahoma City (2017)
American Experience: Ruby Ridge (2017)
A Plastic Ocean (2016)
20 New TV Series Streaming to Netflix Canada
West Coast Customs – Season 2 (2011)
Resurrection: Ertugrul – Season 2 (2015)
Oddbods – Season 1 (2016)
Leyla and Mecnun – Season 3 (2014)
Filinta – Season 2 (2015)
Chelsea – Season 2 (2016)
Gangs of Hassepur – Season 1 (2014)
Bhaage Re Mann – Season 1 (2015)
Bh Se Bhade – Season 1 (2013)
Agent Raghav – Season 1 (2015)
Shameless (U.S.) – Season 6 (2015)
Maharakshak Devi – Season 1 (2015)
The Cravings – Season 2 (2016)
The Mr. Peabody and Sherman Show – Season 4 (2016)
The Motorbike Show – Season 1 (2012)
Tales by Light – Season 2 (2015)
Hot Girls Wanted: Turned On – Season 1 (2017)
Girlboss – Season 1 (2017)
Degrassi: Next Class – Season 2 (2016)
Bill Nye Saves the World – Season 1 (2017)
---