Titles Leaving Netflix in December 2015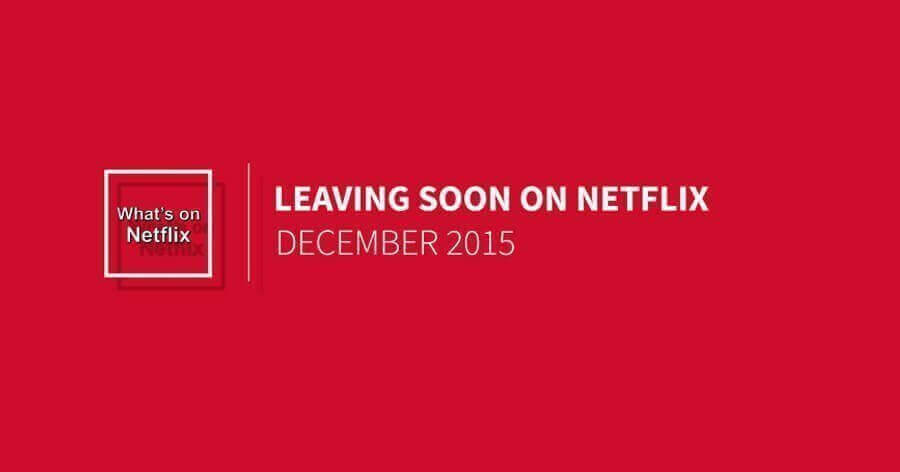 It's the most wonderful time of the year except if you're a fan of any of these titles listed below as they'll be leaving Netflix throughout the month of December. Below we'll list the latest titles set to expire throughout the month. You may see that some of the titles will be added back to Netflix at some point while others will be lost forever.
Update : 24/11/15 – We've updated the list with the official list of what's leaving Netflix in December but still have a lot of stuff in the queue that's due to leave. Updating as and when.
Complete List
December 1st
17 Miracles (2011)
A Force of One (1979)
Absolute Zero (2005)
All About Eve (1950)
American Mormon (2005)
Animen : The Galactic Battle (2012)

Angelo Rules 3D (2009)

Batman Begins (2005)
Beverly Hills Cop III (1994)
Big and Small (2008)
Big Boys Gone Bananas!* (2011)
Brian's Song (2001)
Cop Land (1997)
Damien: Omen II (1978)
Doin' It in the Park: Pick-Up Basketball, New York (2012)
Employee of the Month (2006)
Escape (2012)
Forces of Nature (1999)
Furry Vengeance (2010)
Get Low (2009)
In Need of Romance (2011)
Insomnia (2002)
Juice (1992)
K-19: The Widowmaker (2002)
Kickboxer (1989)
Kickboxer 2 (1991)
Kickboxer 3: The Art of War (1992)
Kickboxer 4: The Aggressor (1994)
La Camioneta: The Journey of One American School Bus (2012)

Labyrinth (1986)

Last Night (2010)

Left Behind II: Tribulation Force (2002)
Left Behind: The Movie (2000)
Left Behind: World at War (2005)
Modern Problems (1981)
Monster Math Squad (2012)
My Best Friend's Wedding (1997)
Necessary Roughness (1991)
Occupation: Fighter (2011)

Omen III: The Final Conflict (1981)

Plankton Invasion 3D (2012)
Pope Pius XII (2010)
R.L. Stine's Mostly Ghostly (2008)
R.L. Stine's The Haunting Hour: Don't Think About It (2007)
Rastamouse (2011)
Redemption : Kickboxer 5 (1995)
Ring of Curse (2011)
Shrink (2009)
Shut Up & Let's Go (2012)
Silence of the Lambs (1991)
Soapdish (1991)
The Avengers: Earth's Mightiest Heroes: Season One
The Brothers Grimm (2005)
The Burbs (1989)
The Dark Crystal (1982)
The Great Escape (1963)
The Guardian (2003)
The Guardian: Seasons One-Three
The High and Mighty (1954)
The Hustler (1961)
The Omen (1976)
The Paw Project (2013)
The Pink Panther 2 (2009)
The Sixth Sense (1999)
The Specialist (1994)
The Third Wish (2004)
Tormented (2011)
Trek Nation (2011)
Two Can Play That Game (2001)
Vampire in Brooklyn (1995)
VeggieTales: Celery Night Fever (2014)
VeggieTales: The League of Incredible Vegetables (2012)
VeggieTales: Veggies in Space: The Fennel Frontier (2014)
December 3rd
December 4th
Mickey Mouse Clubhouse: Road Rally (2010)
December 6th
360 (2011)
The Oogieloves in the Big Balloon Adventure (2012)
December 8th
Biggie & Tupac (2002)
Deadball (2011)
The Four (2012)
December 9th
Battle for Haditha (2007)
C.O.G (2013)
December 10th
The Angel's Share (2012)
Berberian Sound Studio (2012)
The Missing Picture (2013)
Sightseers (2012)
The Undying (2009)
Ultimate Spider-Man (Season 2)
December 11th
The Avengers: Earth's Mightiest Heroes (2012)
Beloved (2011)
Rescue Me (Seasons 1 to 7)
The Story of Film: An Odyssey (2011)
December 12th
Why Did I Get Married? (2007)
December 13th
How to Build a Better Boy (2014)
Thor & Loki: Blood Brothers (2011)
December 15th
Bridget Jones: The Edge of Reason (2004)
Guess How Much I Love You (2012)
Island at War (2004)
The Dick Van Dyke Show (1965)
December 17th
December 21st
Alaska Fish Wars (2 Seasons)
Alaska State Troopers (3 Seasons)
American Weed (2 Seasons)
Animal Superpowers (1 Season)
Apocalypse 101 (1 Season)
Battleground Afghanistan (1 Season)
Beast Hunter (1 Season)
Breakout (1 Season)
Built for the Kill (2 Seasons)
Cesar Millan's Leader of the Pack (1 Season)
Doomsday Castle (1 Season)
Doomsday Preppers (1 Season)
Drugged (1 Season)
Fish Tank Kings (3 Seasons)
Freaks and Creeps (1 Season)
Hard Time (1 Season)
How to Survive the End of the World (1 Season)
Hustling America (1 Season)
Inside Cocaine Wars  (1 Season)
Locked Up Abroad (4 Seasons)
Marley Africa Road Trip (1 Season)
National Geographic: Amazing Planet (1 Season)
The Savage Line (1 Season)
Secret Life of Predators (1 Season)
Snake Salvation (1 Season)
To Catch A Smuggler (1 Season)
Untamed Americas (1 Season)
Wicked Tuna (1 Season)
Red Hook Summer (2012)
December 24th
December 25th
The West Wing (7 Seasons) 
December 30th
Bronies: The Extremely Unexpected Adult Fans of My Little Pony (2013)
December 31st
---