Titles Leaving Netflix in January 2016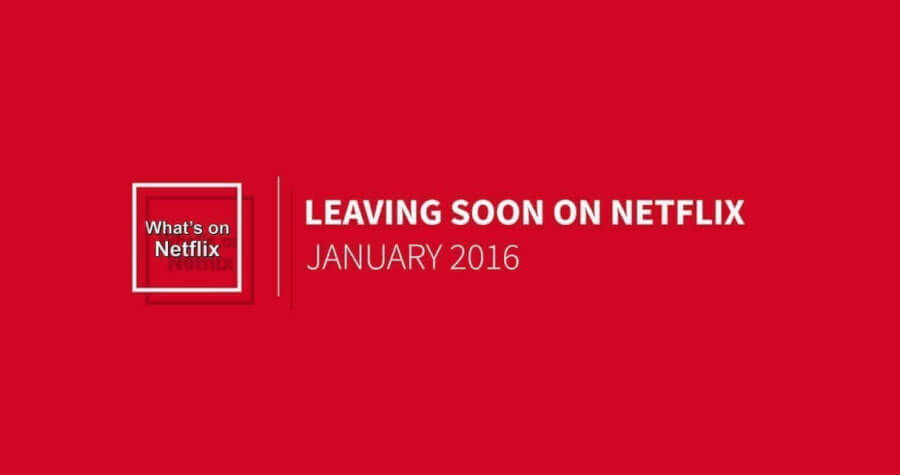 It's 2016 and with that means a fresh start but sadly for Netflix, it also means a lot of content is dropped from the service. There's lots of regions for this but January 1st is particularly a key date as many contracts start and finish on the first of the year.
As with other months – most of the titles on this list are simply up for negotiations with the content creators so it may not necessarily mean that the title is gone for good. For example, on the first of January the Sesame Street collection is scheduled to leave but has been scheduled to leave already three times in 2015.
January 1st
A Clockwork Orange (1971)
Almost Famous (2000)
American Psycho (2000)
American Psycho 2 (2002)
Charlie and the Chocolate Factory (2005)
Coach Carter (2005)
Conan the Barbarian (2011)
Corpse Bride (2005)
Coyote Ugly (2000)
Criminal Minds: Suspect Behavior: Season 1
Final 24 (2007)
Four Brothers (2005)
Frontline: United States of Secrets (2014)
Gladiator (2000)
Grandma's Boy (2006)
Harriet the Spy (1996)
Heartbreakers (2001)
Jackass: The Movie (2002)
Jerry Maguire (1996)
Justice League (2003)
Justice League Unlimited (2005)
Lara Croft: Tomb Raider (2001)
Lawrence of Arabia (1962)
Locked Up in America (2014)
Max Steel (2014)
Million Dollar Baby (2004)
Mission: Impossible (1996)
Mission: Impossible II (2000)
Paranormal Home Inspectors (2011)
Pinky Dinky Doo (2008)
Planes, Trains and Automobiles
Play with Me Sesame (2002)
Rambo III (1988)
Rambo: First Blood (1982)
Rambo: First Blood Part II (1985)
Risky Business (1983)
Rocky (1976)
Rocky II (1979)
Rocky III (1982)
Rocky IV (1985)
Rocky V (1990)
Rosemary's Baby (1968)
Salvage Hunters (2011)
Scooby-Doo!: Mystery Incorporated (2012)
Serpico (1973)
Sesame Street: Animals and Nature: Season 1
Sesame Street: Classics: Vol. 1-2
Sesame Street: Cookie and Friends: Season 1
Sesame Street: Creativity and Imagination: Season 1
Sesame Street: Elmo and Friends: Season 1
Sesame Street: Everyday Moments: Season 1
Sesame Street: Music and Dance: Season 1
Sesame Street: Numbers and Letters: Season 1
The Bourne Identity (2002)
The Bourne Supremacy (2004)
The Graduate (1967)
The Hours (2002)
The Increasingly Poor Decisions of Todd Margaret (2012)
The Italian Job (2003)
The Longest Yard (2005)
The Machinist (2004)
The Patriot (2000)
The Rescuers (1977)
The Sum of All Fears (2002)
The Virgin Suicides (1999)
There Will Be Blood (2007)
Trading Places (1983)
Trekkies (1997)
Young Justice (2010)
Zoolander (2001)
January 5th
Years of Living Dangerously (2014)
January 8th
Live Fire (2011)
The Lying Game (2013)
Skeleton, Inc (2011)
January 10th
Crime Secrets Of… (Season 1)
Dead Famous DNA (2014)
Fighting on the Frontline (2011)
Frisky Business (2014)
January 14th
America Unearthed (2013)
America: The Story of Us (2010)
America's Book of Secrets (2014)
American Pickers: Collection (2014)
American Restoration: Collection (2014)
Ancient Aliens: Collection (2014)
Bad Ink (2013)
Beyond Scared Straight! (2013)
Bible Secrets Revealed (2013)
Counting Cars: Collection (2015)
Dance Moms: Collection (2013)
Duck Dynasty: Collection (2015)
Gangland: Collection (2010)
Gangsters: America's Most Evil (2013)
God, Guns & Automobiles (2013)
Hoarders: Collection (2012)
How the States Got Their Shapes (2012)
Intervention: Collection (2012)
Mankind: The Story of All of Us (2012)
Modern Marvels: Collection (2012)
MonsterQuest (2010)
Mountain Men (2013)
Pawn Stars: Collection (2014)
Preachers' Daughters (2014)
Stan Lee's Superhumans (2011)
Storage Wars: Collection (2013)
Storage Wars: Texas (2011)
Swamp People: Collection (2014)
The Bible Rules (2014)
The First 48: Collection (2012)
The Kennedys (2011)
The Killer Speaks (2014)
The Men Who Built America (2012)
The Ultimate Guide to the Presidents (2012)
The Universe: Collection (2012)
Top Shot: Collection (2013)
Vietnam in HD (2011)
WWII in HD (2009)
January 15th
An Idiot Abroad (TV Series)
Satisfaction (2013)
Unsealed: Conspiracy Files (2012)
January 16th
P. Diddy Presents the Bad Boys of Comedy (2005)
January 20th
Doctor Stranger (2014)
Fated to Love You (2014)
---