Titles Leaving Netflix in March 2016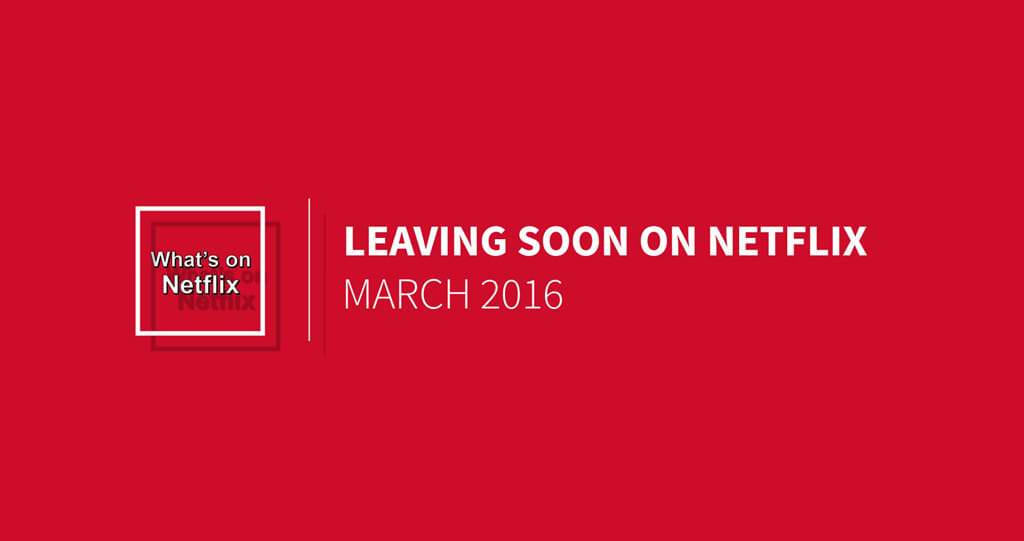 Last month we had one of the biggest casualties of the Netflix library in the form of Doctor Who leaving Netflix. That includes Classic Doctor Who too. It's let to widespread speculation about the state of Netflix and their quest to become a Netflix Original only service which is no doubt cheaper for the service in the long run.
We're now looking to March and cataloging all the titles due to leave the service throughout the month of March 2016.
---
March 1st
Alvin and the Chipmunks Meet the Wolfman (2000)
American Pie (1999)
American Wedding (2003)
Atlantis: The Lost Empire (2001)
Down and Out in Beverly Hills (1986)
Emily Bronte's Wuthering Heights (1992)
Gone in 60 Seconds (2000)
Hackers (1985)
Hamlet (1990)
Hannie Caulder (1971)
Hardball (2001)
Hart's War (2002)
Hitch (2005)
Indecent Proposal (1993)
Johnny Dangerously (1984)
Jumanji (1995)
Masters of the Universe (1987)
Men in Black II (2002)
Not Another Teen Movie (2001)
Paycheck (2003)
Switchmas (2013)
The Babysitters (2007)
The Chosen One (2010)
The Monster Squad (1987)
The United States of Leland (2003)
Wings (1927)
Weird or What? – Discovery Channel (2 Seasons)
Zero Hour – Documentary Series (3 Seasons)
March 2nd
Night Catches Us (2010) ^
Stevie Nicks: In Your Dreams (2013)
Zinda Bhaag (2013) ^
March 3rd
March 4th
Getting Go: The Go Doc Project (2013)
Private Romeo (2011)
March 5th
I Am Divine (2013)
Gun Hill Road (2011) ^
March 6th
Le Week-End (2013)
Refuge (2012)
March 7th
March 8th
Agnes Varda: From Here to There (1 Season)
Holidaze (2013)
March 9th
Arn: The Knight Templar (2007)
The Mistle-tones! (2012)
March 10th
Good Doctor (1 Season)
Gu Family Book (1 Season)
March 11th
March 14th
Deadman Wonderland (1 Season)
Dil To Pagal Hai (1997) ^
Lamhe (1991) ^
March 15th
Best of TEDx (1 Season)
Howard Zinn: You Can't Be Neutral on a Moving Train (2004) ^
I Killed My Mother (2009)
Lola & Virginia (1 Season)
The Secret World of Santa (1 Season)
TED Talks: Life Hack (1 Season)
TED Talks: Life Hack 2: The Next Level (1 Season)
TED Talks: Sex, Secrets & Love (1 Season)
TED Talks: Smart Laughs (1 Season)
TED Talks: Head Games (1 Season)
TED Talks: Life Lessons & Confessions (1 Season)
TED Talks: Chew on This (1 Season)
TED Talks: Humanity's Future (1 Season)
TED Talks: Space Trek (1 Season)
TED Talks: Love, No Matter What (1 Season)
TED Talks: Hot Buttons (1 Season)
TED Talks: The Best of TEDx in Espanol (1 Season)
TED Talks: Inexplicable Connections (1 Season)
TED Talks: Rad Invention (1 Season)
TED Talks: Ancient Clues (1 Season)
TED Talks: The Capitalism Paradox (1 Season)
TED Talks: Artistry and Illusion (1 Season)
TED Talks: Music Revolution (1 Season)
TED Talks: Animal Voices (1 Season)
TED Talks: Defying Disease (1 Season)
TED Talks: Numbers Speak Louder than Words (1 Season)
TED Talks: Building Wonder (1 Season)
TED Talks: Beasts, Bugs & Bio-wilderment (1 Season)
TED Talks: Robotic Machinations (1 Season)
TED Talks: How to Start a Movement (1 Season)
TED Talks: Cyber Awe (1 Season)
TED Talks: Rebel Design (1 Season)
TED Talks: Into the Abyss (1 Season)
TED Talks: Global Villages (1 Season)
TED Talks: Body By Design (1 Season)
March 17th
Band Baaja Baaraat (2010) ^
Chak De! India, aka Chakde! India (2007) ^
Dilwale Dulhania Le Jayenge (1995) ^
Dhoom 2 (2006) ^
Elegy (2008)
Mere Brother Ki Dulham (2011) ^
Mohabbatein (2000) ^
Rab Ne Bana Di Jodi (2008) ^
March 18th
Cosmopolis (2012)
Music For Mandela (2013)
Out in the Dark (2012)
Side Effects (2013)
March 23rd
Keep the Lights On (2012)
March 26th
March 28th
March 31st
Dr. Dolittle 3 (2006)
Garfield's Pet Force (2009)
The Sandlot 2 (2005)
Twelve Mile Road (2003)
Women Who Kill (2012)
The Writers' Room: Season 1
^ – Provided by third party source
---