Titles Leaving Netflix in March 2017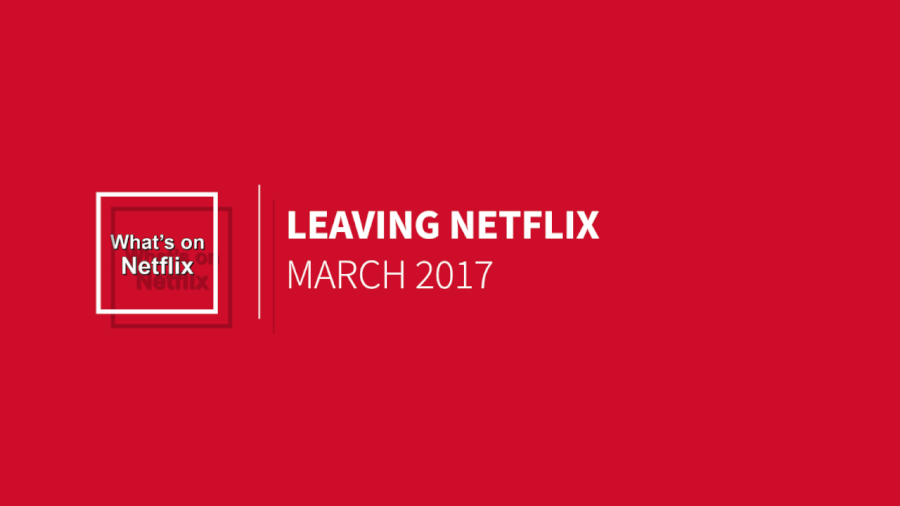 It's time to look ahead for what's due to expire from Netflix US in March 2017. Once again, the confusion surrounding the BBC series continues. Having been put up for expiration in February and then seemingly renewed towards the end of the month, they're now up for expiration again for March 1st.
As always, we'll update this list on a daily basis with titles usually appearing for expiration around 30 days before they're set to leave. We also then receive a complete list from Netflix themselves towards the end of the month.
March 1st
Aleksandr's Price (2013)
All Wifed Out (2013)
American Pie Presents: The Book of Love (2009)
Beautiful Girls (1996)
Beverly Hills Cop (1984)
Big Sur (2013)
Blue Streak (1999)
Cape Fear (1991)
Cesar's Last Fast (2014)
Clueless (1995)
Cropsey (2009)
Da Jammies (1 Season)
Defiance (2008)
Divorce Corp. (2014)
Don Verdean (2015)
Dragon Tales (3 Seasons)
Fire with Fire (2012)
Forever (2015)
The Ghost Writer (2010)
Hannibal (2001)
Hard Candy (2005)
Harmontown (1 Season)
Heather McDonald: I Don't Mean to Brag (2014)
High Lane (2009)
Hookwinked! (2005)
Jaws (1975)
Jaws 2 (1978)
Jaws 3 (1983)
Jaws: The Revenge (1987)
Justice League: War (2014)
Justice League: The Flashpoint Paradox (2013)
Keeping Up Appearances (1990-1995)
Last Summer (2013)
Linsanity (2013)
The Man Whose Mind Exploded (2012)
Milk Money (1994)
Monarch of the Glen (Seasons 1 – 7)
National Lampoon's Animal House (1978)
One Rogue Reporter (2014)
Our Vinyl Weights a Ton: This is Stones Throw Records (2013)
Outrage (2010)
Pandora's Promise (2013)
Penelope (2006)
Point Black (2010)
Religulous (2008)
Requiem for a Dream (2000)
Reservoir Dogs (1992)
Road Trip: Beer Pong (2009)
Robin Hood (Seasons 1 – 3)
The Rock (1996)
The Seven Year Stitch (1955)
The Sixth Man (1997)
Son of Batman (2014)
The Story of Ruth (1960)
Survivors (Series 1 – 2)
The Traveler (2010)
U-571 (2000)
The Vicar of Dibley
What Went Down (1998)
The Wiz (1978)
Zoo Clues (1 Season)
March 2nd
Black or White (2014)
Brazillian Western (2013)
IT Champions (1984)
My Family Doctor (2005)
Sweetwater (2013)
March 3rd
Bill & Ted's Bogus Journey (1991)
Donde Esta Elisa (1 Season)
Misfire (2014)
Relaciones Peligrosas (1 Season)
Victoria (1 Season)
Web Junkie (2013)
March 4th
Entertainment (2014)
I Dream of Wires (2014)
Otto the Rhino (2013)
Seashore (2015)
The Discoverers (2012)
The Nanny Diaries (2007)
March 5th
Food Chains (2014)
Jail Caesar (2012)
The Days to Come (2010)
Two Hundred Thousand Dirty (2012)
March 6th
Pit Stop (2013)
Rigor Mortis (2013)
March 7th
March 8th
Love at First Fight (2015)
The Starving Games (2013)
March 10th
Danger 5 (2 Seasons)
Faith Connections (2014)
Legend of Sarila (2013)
Life of Riley (2014)
March 11th
The Elephant Princess (1 Season)
Underdogs (2013)
March 12th
About Elly (2009)
God Bless the Child (2015)
Ken Burns: The War (1 Season)
The Rise of Hope (2013)
Magnus (2016)
The Santa Clause (1994)
March 15th
3rd Rock from the Sun (6 Seasons)
A Different World (6 Seasons)
Animals Gone Wild (1 Season)
Boy (2010)
B for Boy (2013)
Empresses in the Palace (1 Season)
Hacking the System (1 Season)
Harry and His Bucket Full of Dinosaurs (2005)
How I Live Now (2013)
If I Were You (2012)
Jasper Redd: Jazz Talk (2014)
May in the Summer (2013)
My Girlfriend's Boyfriend (2010)
The Numbers Game (1 Season)
Reaching for the Moon (2013)
Revelation Road: The Beginning of  the End (2013)
The Rise of Hope (2013)
Showdown of the Unbeatables (1 Season)
Sushi: The Global Catch (2012)
Sword Art Online (1 Season)
Terraferma (2011)
Tom Segura: Completely Normal (2014)
Toobys Vol 2. (2014)
The Wise Kids (2012)
March 16th
March 23rd
Love Me (2014)
The Invincible Iron Man (2007)
March 25th
All Stars (2013)
Pup (2013)
The Perfect Wedding (2012)
March 27th
Dragonwolf (2013)
Torchwood (4 Seasons)
March 28th
The Kingdom of Dreams and Madness (2013)
March 29th
6 Guns (2010)
Detropia (2012)
I Melt With You (2011)
Madoka Magica (2011)
Mega Shark vs Mecha Shark (2014)
The Life and Crimes of Doris Payne (2014)
March 31st
House of Cards Trilogy (3 Seasons)
North & South (2004)
The Office (U.K) (2 Seasons)
Last updated (03/15/2017)
---